N O R T H E R N E U R O P E
RUSSIA, SCANDINAVIA
and The NORTH COUNTRY


2015 / 2016







Toll Free North America
1-877-510-4653

Explore the Baltic States, and Russia, spending time in exciting Moscow and regal St. Petersburg. And don't forget the scenic natural wonders of Scandinavia, including magnificent waterfalls and fjords. Here is our selection of vacations to the Baltic States, Russia, Norway, Sweden, Finland, Denmark and Iceland. From the scenic mountains to the beautiful coasts and from the pristine waterways to the historic cities, we have just the journey for you.


LOW

UNPUBLISHED

DISCOUNTED RATES!

KNOWLEDGEABLE AGENTS WITH OVER 35 YEARS OF EXPERIENCE REPRESENTING THESE FINE TOUR PROGRAMS

CHOOSE TO WORK ONE-ON-ONE WITH OUR PERSONABLE AGENTS OR BOOK IT ONLINE. YOUR CHOICE - ALWAYS!
ST. PETERSBURG AND MOSCOW
St. Petersburg to Moscow via high-speed rail


by

Globus Tours



8 Days including air or 7 Days St. Petersburg/Moscow

The perfect vacation in two majestic cities! Start with a special welcome dinner with your traveling companions that features caviar, blinis, pickled cucumber, and vodka, and enjoy guided sightseeing including visits to the world-famous Hermitage Museum, St. Isaac's Cathedral, and the magnificent Catharine Palace (if closed, visit Pavlovsk Palace instead). Travel by high-speed Sapsam Train to Moscow, where sightseeing includes Red Square and the Kremlin. An included farewell dinner celebrates the success of your Russian vacation.



ST. PETERSBURG AND MOSCOW:

LAND RATE FROM:

$2139
| | |
| --- | --- |
| | |
WARSAW, THE BALTICS AND HELSINKI
Poland, Lithuania, Latvia, Estonia and Finland


by

Globus Tours



10 Days including air or 9 Days Warsaw/Helsinki
| | |
| --- | --- |
| | |

This leisurely vacation includes Poland, the Baltic countries, and Helsinki. Start in Warsaw, Poland, where you hear from a Local Guide about the tormented, often tragic history of this important gateway between East and West , and attend a private Chopin concert. Then, focus on the Baltic states—three small countries that only recently regained their independence from the former Soviet Union. Start with Vilnius, Lithuania, where a special dinner of regional specialties at a local restaurant awaits you. Also enjoy an interesting visit to the Old University and the KGB Museum. Stay two nights in Riga, Latvia, where guided sightseeing features a walking tour of the Old Town and the Art Nouveau Quarter, and in Tallinn, Estonia, guided visits to the Town Hall and impressive Alexander Nevsky Cathedral are included. Cross the Baltic Sea by ferry to Helsinki, proud capital of Finland, and visit the Lutheran Cathedral, the Sibelius Monument, and the open-air market.


WARSAW, THE BALTICS AND HELSINKI:

LAND RATE FROM:

$1899
RUSSIAN RIVER CRUISES
River Cruising from Moscow to St. Petersburg!


by

Collette Tours
13 Days including air or 12 Days Moscow/St. Petersburg

Experience the splendor of the czars, vibrant Slavic culture and the expansive beauty of rural Russia on this 11-day cruise from Russia's capital, Moscow to Peter the Great's glittering city, St. Petersburg. Visit Red Square and St. Basil's Cathedral's kaleidoscopic towers. Step inside the Kremlin and discover its imperial treasures. See the architectural treasures of the "Golden Ring." Cruise through picturesque Lake Onega and the mighty Volga River. Follow an expert guide to discover the incredible treasures of the immense Hermitage Museum as you explore St. Petersburg, one of the loveliest cities in Europe.



RUSSIAN RIVER CRUISES:

LAND RATE FROM:

$3244
NORTHERN CAPITALS
Scandinavian Capitals and Russia!


by

Globus Tours



This is the ideal trip for exploring Central Europe's most fascinating cities and towns. Start in vibrant, cosmopolitan Budapest and visit the magnificent St. Matthias Coronation Church. Stop in Esztergom, the former capital of Hungary. Stay overnight in Bratislava and before reaching Vienna, enjoy a boat cruise on Europe's largest underground lake. Stay two nights in Vienna, once the center of the mighty Habsburg Empire, then enter the Czech Republic and stay in Cesky Krumlov, a UNESCO World Heritage Site. Here you'll enjoy a lunch of local specialties before visiting the impressive castle, dating back to the 13th century. Via Tabor, founded as a bastion by the Hussites, arrive in Prague for an exclusive visit to the magnificent Library of Strahov Monastery during your sightseeing tour. A farewell dinner with wine is the perfect way to end this fascinating vacation.


NORTHERN CAPITALS:

LAND RATE FROM:

$2539
SCENIC NORWAY
Scenic Northern Wonderland!


by

Globus Tours



Immerse yourself in the land of thundering waterfalls, gleaming glaciers, and charming stave churches. This full circle begins and ends in Oslo, starting with two nights in this amazing city. Highlights include the 1994 Winter Olympic city of Lillehammer, a guided walking tour of the Maihaugen Open-Air Museum and lunch of local specialties, cruises on the Geirangerfjord, Sognefjord, and Naeroyfjord, the excellent Norwegian Glacier Museum, Lâtefoss (the star among waterfalls), scene of the daring sabotage action celebrated in The Heroes of Telemark at Vemork, Frogner Park and the City Hall in Oslo. Enjoy a taste of aquavit, the traditional Christmas schnapps, and an apple cider tasting at a local farm. Overnight stays in Bergen, the most picturesque of all Scandinavian towns, and rustic, unspoiled Telemark are included, as well as a farewell dinner in Oslo.


SCENIC NORWAY:

LAND RATE FROM:

$2499
SPECTACULAR SCANDINAVIA
featuring Norway, Sweden and Denmark!


by

Collette Tours

Join us on an incredible journey to a land of unparalleled beauty – Scandinavia. Explore Norway's breathtaking fjord region. Meander through the streets of Bryggen, an ancient Bergen trading port and UNESCO World Heritage site founded in the 11th century. In Denmark's bohemian capital city of Copenhagen, enjoy a leisurely cruise through historic canals. Discover why Copenhagen is dubbed the gastro capital of Scandinavia and experience the 'New Nordic Cuisine Movement' at a local restaurant inspired by its founder." Embrace the tranquility of the Swedish countryside at family-run manor house before traveling to the cosmopolitan capital of Stockholm. Toast the end of a fabulous adventure that brings together Scandinavia's natural wonders, history and culture at Fem Små Hus, a 17th-century restaurant the captures the flavor of a bygone era.


SPECTACULAR SCANDINAVIA:

LAND RATE FROM:

$4449
THE SCANDINAVIAN
Scandinavia In Depth!


by

Globus Tours




This Scandinavian getaway offers sparkling lakes, spectacular fjords, and more. From Copenhagen, travel to Arhus, Gothenburg, Stockholm, Karlstad, Lillehammer, Flam, Bergen, Geilo, and Oslo. All special Globus features are included, like Tivoli Gardens (open mid-April. to mid-September), Hans Christian Andersen's home, and Den Gamle By in Denmark; Stockholm's City Hall and a visit to Gripsholm Castle in Sweden; Lillehammer's Maihaugen Open-Air Museum (from end-May onwards) and Frogner Park in Oslo, Norway, and more. You'll get the chance to try out a local Swedish treat, Polkagris candy, and an apple cider tasting at a Norwegian farm has been included as well. This vacation also offers a great variety of transportation, including cruising from Denmark to Sweden and a beautiful cruise on the Sognefjord. A farewell dinner in Oslo celebrates the success of your Scandinavian vacation.


THE SCANDINAVIAN:

LAND RATE FROM:

$3749
| | |
| --- | --- |
| | |
JEWELS of the BALTIC
| | |
| --- | --- |
| Scandinavian Panorama! | by Cosmos Vacations |
18 Days including air or 17 Days Copenhagen/Stockholm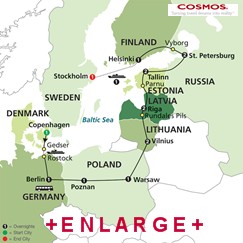 Denmark's capital is the starting point on this exploration of the countries surrounding the Baltic Sea. Begin with time in Copenhagen before a ferry crossing takes you to Rostock, Germany, to board your motorcoach. Travel to fascinating Berlin, Germany's once-again capital, to Poland, with overnights in Poznan and Warsaw. Also visit Vilnius, Lithuania, where guided sightseeing reveals how this city was influenced by the many invaders who left their marks. Visit the baroque Palace of Rundale on the way to Riga, Latvia's capital and one of the most beautiful cities in the Baltics. Guided sightseeing shows off the highlights, then cross Gauja National Park and enter Estonia, with a stop in the seaside town of Parnu. Spend two nights in Tallinn and explore its Old Town, then on to Russia for guided sightseeing in Peter the Great's splendid St. Petersburg. Traveling on the stretch of land between Lake Ladoga and the Baltic Sea, cross back from East to West and arrive in Helsinki, Finland's capital. See Senate Square and the cathedral, then embark on an overnight ferry to Stockholm, Sweden, to see the main highlights on a guided tour—the perfect end to a perfect vacation.


JEWELS of the BALTIC:

LAND RATE FROM:

$2699
INSPIRING ICELAND
featuring Icelandic Splendors!


by

Collette Tours

An island of dramatic contrasts, Iceland is a landscape forged by fire and ice. Steaming lava fields and hot pools reflect its volcanic nature, while massive glaciers continue to sculpt the mountains and valleys, leaving thundering waterfalls and plunging fjords. Travel the "Golden Circle" where many natural scenic wonders are located. Enjoy an overnight stay in a local fishing village to enjoy a puffin cruise. Create your own adventure with your choice of exciting activities – go deep sea fishing, explore on horseback, soak in mineral rich natural baths or take a lava cave hike – it's your exploration! Discover the spectacular landscapes and proud people of this small island nation during this fascinating journey.


INSPIRING ICELAND:

LAND RATE FROM:

$2299
ICELAND ADVENTURE
The Wonders of Iceland!


by

Globus Tours


Enjoy a wonderful vacation in a country of natural wonders: glaciers, volcanoes, waterfalls, and lakes. Highlights are visits to the geothermal heat and electric power station, and the hot springs at Geysir, accompanied by the chef of the Geysir restaurant, who will let you taste freshly baked hot-spring bread and more, with a glass of the local schnapps. Admire the largest glacier in Europe, stop at Lake Jökulsarlon, known because of the James Bond movie Die Another Day, and see the most powerful waterfall in Europe, Dettifoss. Visit the Botanical Garden, with specimens of almost all native Icelandic plants, followed by a unique experience: watch the seals in their natural habitat during a boat cruise. Back in Reykjavik, a special farewell dinner celebrates the success of your Icelandic Adventure.


ICELAND ADVENTURE:

LAND RATE FROM:

$2999
| | |
| --- | --- |
| | |
ARCTIC CIRCLE
A Journey to the Top of the World!


by

Globus Tours

Experience the most beautiful journey through Scandinavia, including the Arctic Circle. Start in Stockholm, scene of Stieg Larsson's Millennium, then enter Denmark and overnight in Copenhagen with its Little Mermaid statue. A peaceful North Sea cruise brings you to Norway for overnight stays in Telemark—with a guided visit of Vemork from the movie The Heroes of Telemark—and in Bergen, one of Norway's most picturesque cities. A spectacular ride on the Flam train is included before boarding the regular train to Oslo, Norway's capital. From Oslo, fly to Tromsø, and enter the land of the "Midnight Sun." Enjoy spectacular ferry rides on the Ullsfjord and Lygenfjord, with breathtaking views of the Lynghen Alps and their glaciers. Explore the North Cape Visitor Center, a sheer cliff rising 1,000 feet from the Atlantic Ocean. Enter Finland, cross the Arctic Circle, and stop at Santa Claus Village to receive your Arctic Circle Certificate. Stay overnight in Rovaniemi, with a chance to join an optional dinner at a Sami home. Via the ski resort of Lahti, arrive in Helsinki, where a special farewell dinner awaits you as a proper farewell to beautiful Scandinavia.


ARCTIC CIRCLE:

LAND RATE FROM:

$5408